Welcome to Preston Hood Chevrolet, Inc.
VIEW DISCLAIMER
HIDE DISCLAIMER
1 Excludes L models, Trailblazer, Tahoe and Suburban. Monthly payment is $13.89 for every $1,000 you finance. Example down payment: 6.8%. Must finance with GM Financial. Some customers may not qualify. Not available with lease and some other offers. Take new retail delivery by 6/30/21.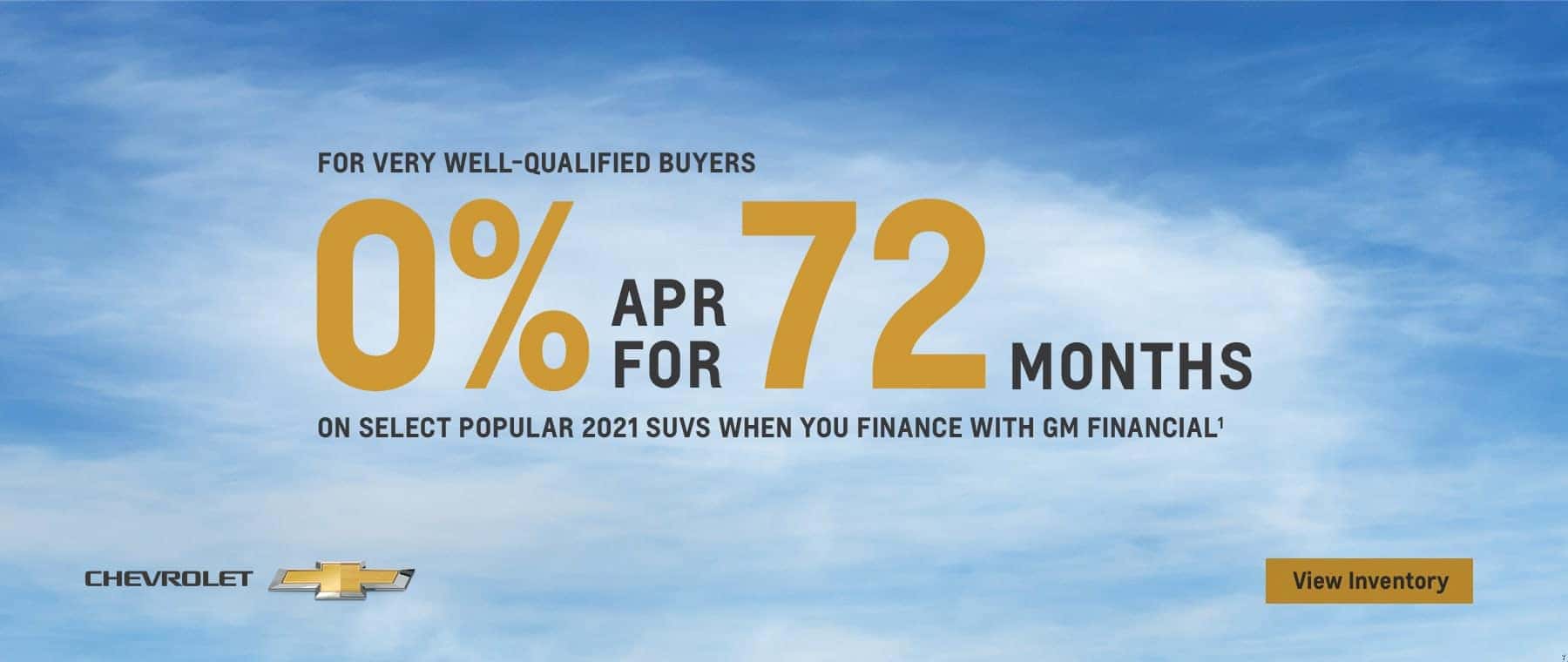 VIEW DISCLAIMER
HIDE DISCLAIMER
1 Excludes L models. Monthly payment is $13.89 for every $1,000 you finance. Example down payment: 6.6%. Must finance with GM Financial. Some customers may not qualify. Not available with lease and some other offers. Take new retail delivery by 6/30/21.
VIEW DISCLAIMER
HIDE DISCLAIMER
1. Not available with special financing, lease and some other offers. Take new retail delivery by 6/30/21.
Certified Pre-Owned
Get a pre-owned vehicle that's inspected and warrantied.
Get Approved
Apply online using our quick credit application to get started.
Value Trade-In
Get an online quote from Preston Hood Chevrolet, Inc. for your pre-owned vehicle.
Welcome to Preston Hood Chevrolet, Inc.
Welcome to Preston Hood Chevrolet, Inc., your premier source for Chevrolet vehicles and service in Pensacola and Fort Walton Beach, FL. Any business is nothing without their customers, that is why at Preston Hood the customer always comes first and our Customer's Reviews support that statement. Our dedication to the customer comes from years of success as our Fort Walton Beach, FL dealership has been serving the area with new and used vehicles for more than 50 years! Our rich history as a leader in Chevrolet sales and service has granted us with the experience necessary to provide guidance on your next Chevrolet purchase.
At Preston Hood Chevrolet, Inc.our sales staff has the experience and knowledge necessary to answer any questions you may have, but more importantly they know how to listen. Our staff will listen to your needs and help you find a vehicle that will not only satisfy your needs, but will remain within your intended budget. To provide a complete car buying experience, our Certified Service Center is here for all of your servicing and maintenance needs to help protect your investment.

In the event that you aren't finding the vehicle you are looking for, let us do the dirty work and locate your next vehicle using our Find It For Me tool. Make sure to check out our Current Incentives, including Military Discounts for our veterans, to get the best price possible on your next car. Browse our new and used inventories online, or just stop by our Fort Walton Beach Chevrolet dealership and browse for yourself today! If you have any questions about our dealership, a vehicle, or our services please don't hesitate to Contact Us or give us a call at 850-374-6882.
Ask A Question
Our Reviews
I went over to Preston Hood to look at buying a new Silverado and I can't say enough good things about how I was treated. Dylan was my salesman and he was very respectful and listened to all my concerns and answered every question I had. At no point did I feel pressured or disrespected. Dylan was very professional and now I have my dream truck. I will never go anywhere else to buy a new or used vehicle. If you are in the market for a new vehicle go see Dylan at Preston Hood!
I saw a vehicle posted by the dealership on Autotrader.. I sent an inquiry and received a quick response from Farrin from Preston Hood in Ft. Walton Beach. With my permission, she continued to text me in response to my questions. She even walked out on the lot to personally check the truck for a smoky smell. (That was one of my questions.). We did not end up purchasing from them because someone beat us to it, but she let us know in time to prevent us from driving over - which I appreciated. She also offered us a similar truck to consider. All in all, Farrin was very professional and personal. Thank you.
I was looking for cars online when I noticed Preston Hoods' poor reviews. I have bought 3 new and 2 used cars from Preston Hood over the years and only have good things to say. All the vehicles were top notch with no major issues. Sure every car and dealer have problems sometimes. More likely than not, some of these reviews were written by unreasonable customers. I support Preston Hood totally until I have a bad experience.
I have been looking for a car for my daughter for a while. Came upon Preston Hood Chevrolet. I was so happy that I had gotten texts on my questions almost immediately. Had the pleasure of talking with Matthew Keller & Orlando one of them always made sure they called me back. I live in Texas & my daughter in Florida so it was a bit stressful trying to get everything done. Stephanie made sure the transaction went smoothly. My Daughter Joeny will be picking her car up soon. Thank You so much guys for making her dreams come true. Happy Birthday little girl. Bertie
Stephanie was our sales woman for our GMC and she put up with my husband and I's indecisiveness for quite a long while! She gave us a great deal, was welcoming, professional, and friendly. She even sent me a hand written birthday card in the mail from Preston Hood! Super sweet gesture! Appreciate their service! Definitely go see Stephanie! She's awesome!
If you want a professional relationship with a dealer, in which YOU are their most precious commodity Preston Hood is the dealer for you. I have dealt with ALL the high-end car dealerships in the area and was never treated better than @ Preston Hood. I have purchased over 125 NEW cars to date and NEVER have been more appreciated than @ this dealership.
Had my 2016 Silverado spray in bed liner done and it looks awesome. Phillip Prisco, was so professional. He took special care to do a masterful job any dealer would be proud of. Truck was detailed and ready to go when promised. Great job, Phillip!
My '15 Corvette was serviced at the dealership and I met Mike Albright, a new advisor in the service department. He was friendly and provided great service during my visit.. I look forward to working with Mike in the future. He certainly encourages me to use Preston Hood in the future.
I had my 2011 Equinox serviced at the dealership on Fri, and was introduced to Mr. Mike Albright, a new advisor in the service dept. He was exceptionally friendly and gave me undivided attention during my visit. I have experienced many advisors at various dealerships, however, he makes you feel that your car and your time are valued. I look forward to working with Mike in the future. His attention to his customers will certainly encourage loyalty and a greater possibility for making their next purchase with Preston Hood. A job well done--thanks Mike!
Kasi and the folks at Preston Hood went the extra mile to make sure my car is a exactly the way I want it. They repaired the damage that Alan Turner Chevrolet caused to my car then Mr Turner told me I was trying to get something for nothing. Kasi personally made sure my pride was restored in my vehicle. Kasi Dent is a true diamond and asset to Chevrolet. Kasi should teach horrible dealerships about customer service. I can't say enough about Kasi Dent everyone should deal with Kasi. Kasi is the only only person I deal with in fact I talked with Mr Hood about how amazing Kasi is. She is the assistant service manager and it is well deserved. Preston Hood is one of the only businesses in the state of Florida that I have experienced customer service.
I arrived at Preston Hood Chevrolet Brent Little was extremely helpful, friendly and professional in assisting me with my service issue. Great job Brent!! Thanks
I wanted to get out of my current vehicle into a newer Chevrolet Truck, Austin Cribbs was extremely helpful in finding the right truck for me in my price range. When I couldnt seem to get everything in order with my trade in and financing options, he and Joann Jeffries, helped me a great deal with the vehicle and financing. I would HIGHLY recommend this dealership to anyone in the market for a new Chevrolet vehicle or a great used car! Thanks again Preston Hood Chevrolet!
From the moment I arrived Paul Hughes was very courteous and informative without being pushy, which is what I look for in a salesperson. After working with me on the price and what I needed in a truck we were quick to come to an agreement. I left the dealership still needing a few things done to the vehicle. Paul ensured I had a time scheduled to get the vehicle in and out of the service department quickly with no hassle towards me. In the end Paul made the sale for me and he is the reason I purchased my vehicle from Preston Hood.
My first contact with Preston Hood was with Jennifer ininternet sales, she was quick with her reply and answered all my questions. She was very helpful and followed up with me when she said she would. Paul Hughes helped me locate the vehicle I was looking for, was very personable and professional. Great to work with, I highly recommend Paul and would definitely see him again. Joann is very efficient and friendly, financing was quick and easy, she also explained the extended warranty that I purchased. Miss Linda made us feel us like family by giving us advice on how to handle our title business. She made it personal by telling us what she would in our position. Her advice will make our future decisions easier. Our entire experience with Preston Hood was outstanding, everyone was very friendly and professional from start to finish.
Dallas was extrelmely helpful in the purchase of my new Camaro. He did not try to sell me something I had no interest in and promptly took all my offers to the manager. After my purchase, he had the car and new tags/title ready when promised. I would recommend him to anyone looking for a new car.
Prior to our visit to Preston Hood, we thought that all dealerships and sales personnel were cut from the same cloth. Contrary to our initial hangups we came across Dallas Moody. Not only did we get the vehicle we wanted we also got it a lower price than expected. Dallas went above and beyond the call of customer service. He actually had the customer in mind, not just the sale. We were comfortable from the moment we arrived to the moment of purchase. If you are in the market for a new or used vehicle, we would highly recommend Preston Hood Chevrolet. Just ask for Dallas!
Keith was great to me and my parents. We got a good deal on a 2012 Equinox and I've been happy ever since. Even with me living in another state after buying the car and returning home, Keith has still corresponded with me through emails with any questions or concerns that I've had.
From first meeting Scott Eads I knew we were in for a good experience shopping for a new vehicle. Scott is a true gentlemen and was quick to point out buying options for us to consider. The negotiation was straight forward and actually pleasant...now there's a first. From initial greeting, the test drive, the deal and to vehicle transfer, Scott is a credit to the dealership.
I have purchased 2 vehicles from Preston Hood Chevrolet. 1 new and 1 used. I would just like to say that the personnel at this dealership are very professional. Steve Barrett worked both deals. He was very courteous and professional. His knowledge of the business was impressive. Talking with him was pivotal in both of my purchases. I called Steve on the phone to tell him what I was looking for, and he found exactly what I wanted, and at a price I was happy with. I also use Preston Hood for my maintenance service, and have always left there happy with the job that was done. I also have used their repair shop 3 times, and Rick R. took care of everything for me including the insurance company. I dropped it off and a few days later picked it up. The truck looked just like new. If you need a new or used vehicle please give Preston Hood a try, you will be happy. John F.
I have purchased 2 vehicles in the last 5 years. Without the help of Steve Barit I doubt that I would have purchased my SSR. Steve got me a great price on it and a great value for my trade-in. When I purchased my Suburban LTZ, Chuck Epply also got me a great price on it and again a great value for my trade-in. I have purchased 15 new vehicles and only 1 other time did I get this kind of expert help from a dealership. These gentlemen did not do the normal pressure games that most other dealerships try. They got me financing at a rate I did not think was possible. When I first came to this area, I tried a local GMC dealership. Their service and parts dept. would be a 2 on a scale of 10. Preston Hood would be a 10. Thanks to all the people I have dealt with at Peston Hood. It is a pleasure doing business with you. Mike F.
The service department at this dealership is good. Kasi is a great individual to work with and meets all my needs for my automobile. Any problems I have had with the service department, have been attempted to be fixed. I would strongly recommend that any new customers to this dealership's service department, use Kasi as she has more respect for your vehicle than others that work in at the customer service desks.
Great and friendly staff. They took care of everything. They made the whole experience a complete delight. Jenna set it all up before I got there. Spencer met me a the door with the cars I was interested in at the door. The entire staff was awesome!!
Idid my market research and found a used car that I was interested in through Preston Hoods web site. I asked for information about a particular used car they had on a Sunday night, within minutes I had a reply. Jenna e-mailed me to tell me that while she was not in her office she would get in touch with me the next day. The next day I got the information I wanted and each additional question I had she answered back very quickly. After e-mailing back and forth, I set up a time to come and test drive the car. When I got there I meet Dallas Moody and the car was out front waiting for me. I test drove the car, Dallas asked if I was interested in working out a deal so we went to his office. He offered us water and made us feel comfortable. He offered us a price and then he evaluated our trade. The entire time there was no pressure from him and the price was better than I expected. I fully came to the dealership expecting to fight for every penny and that NEVER HAPPENED!!! When it was all said and done, they offered me more than I expected for my trade in. Overall, it was a wonderful experience and I highly recommend Preston Hood. From the time I searched on the internet and sent that first e-mail to driving off with my new car it was as if they valued my business. I can't say that about any of the other dealerships in the area.
The sale was fast, and Dallas was a great salesman!This is the second time i have purchased an SUV from Preston Hood, and would deffinatley recommend this dealership.
I rated Preston Hood as high as I could not only for the excellent work they do, but for the personnel employed there. I wouldn;t go anywhere else to have my car serviced. Kasi McLaughlin always takes care of what my cars need with a professional approcach that sets the standard for her peers. She is an excellent ambassador for Preston Hood and if you can find a way to hihre more employees like her, you should junp at the chance. Chcuk Epley is a very competent salesman, he doesn;t pressure you, but he believes in what he;s doing and that established a high degrree of credibility. Preston Hood hit a goldmine when they hired Bill Kelley. He cares about the buyer's best interests, and always makes sure the buyer is happy with his purchase. I won't go anywhere else and recommend Preston Hood Chevrolet to all my friends. They are second to none! Someone in the personnel department did an excellent job of recognizing talet when they hired Kasi, Chuck, ChucK, Steve and Bill!
Get Directions To Our Dealership